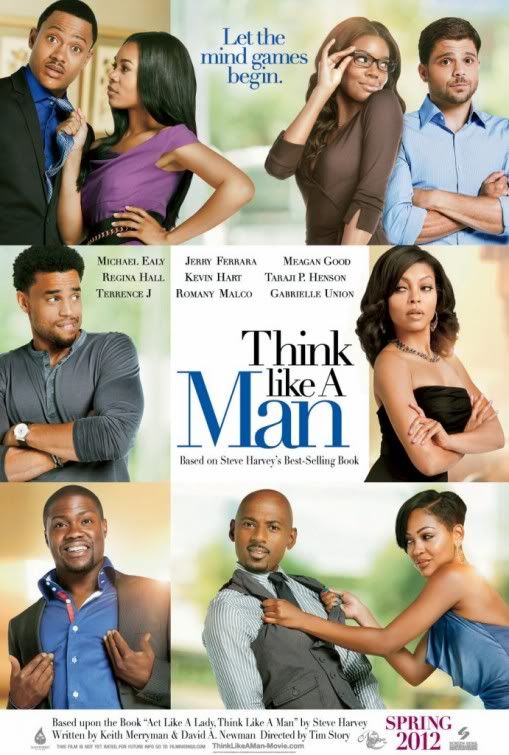 "Four friends conspire to turn the tables on their women when they discover the ladies have been using Steve Harvey's relationship advice against them." IMDB
When I went last night to the pre-screening of Think Like a Man my expectations were kind of low. With a synopsis like the one above, I knew there would be drama and judging by the trailer it was also going to be a little funny but I was only slightly in the mood to see any movie. I was exhausted and was afraid I was going to fall asleep during. That was quickly forgotten. The movie was just that entertaining.
The synopsis is on the mark for once so this doesn't need a lot of explanation but I'm going to try anyway. Think Like a Man showcases four women who know what they want from their men but don't know how to get it. One has been with her commitment phobic boyfriend for nine years. Another keeps meeting men who want only one thing. The third has a young son and difficulty finding a man who's cool with that. And the fourth is the COO of a Fortune 500 company who is looking for her equal. Do all the women get what they're looking for? Nope. What? You thought I wasn't gonna tell you?
As I write this I'm sitting in bed, typing on my laptop, watching Gilmore Girls and have a kitten falling asleep on my stomach. If ever a movie was made for such a pathetic woman this one is it. I wonder if the book mentions a man for such a person. Hmmmm… And speaking of the men, there are five of them on which the movie focuses, though we do see a sixth in their group on occasion. Wait just one minute there! Five men and four women? What's going on here? You'll see. You'll also see these descriptions in the movie but I'm gonna tell you anyway. The men are described as such: The Player, The Dreamer, The Mama's Boy, The Commitment-Phobe, The Happily Married and The Happily Divorced. You're really interested now, aren't you? No? Come on now!
Other than two of the guys I love the cast. Chris Brown has top billing but is only in a couple scenes and only very briefly. I read that he was supposed to be one of the main characters but Kevin Hart won the role instead. Thank goodness! I still don't understand why Chris got top billing. Kevin Hart is funny but his antics get old after a while. He frequently goes off on rants, gets offended a little too easily and seems to be a tad showy-offy (it could be a word). Aside from being annoying though, Kevin does bring a lot of the comedy to the film. As there are eight main characters, I'm going to refrain from saying good things about each individual. I liked them all and this post would go on forever.
Since this is coming out tomorrow…er…tonight I'm going to head on to the break-down.
Sex/Nudity – We knew that someone had just had/was getting ready to have sex but we didn't see the act. The closest it got to nudity was a girl in her bra and a man in just pajama bottoms.
Drinking/Drugs – No drugs. Quite a bit of drinking.
Cussing – Yes. GD was well loved for this script. B made a few appearances. The only word I don't recall hearing was F. One of the people I went with said she was glad that the movie didn't have any cussing. When we looked as if she'd lost her mind she said that she'd probably become desensitized. I completely understand. I was the same way before I started blogging for my niece. True.
Violence – A book gets thrown. Oh no!
I wouldn't recommend Think Like a Man for children because the subject matter is more than they need to deal with at their ages and because of the language. Other than that, I recommend this to pretty much anyone. I know a lot of you guys out there are thinking this is a total chick flick. Well…it is. But then again, it isn't. The movie shows a lot of dating but it also shows the guys just hanging and gives us a glimpse in to their friendship. There were only two things I thought should have been changed about the movie. The first is that one of the women gets mad at her man when he turns the tables on her and she finds out. She called him a liar. Excuse me. Who used the book in the first place? The second is that we never get to see Bennett's wife. He's the only one of the guys who is happily married. You'd think we'd get to meet her at least once. Nope. Unless they snuck her in at the end and I just didn't notice but I don't think so.
This is a fun movie and definitely worth seeing on a date. C'mon guys. What's the worst that could happen? Your date would expect you to shape up? Let me let you in on a little secret. The guys aren't the only ones making changes. So there. Go see this. And if you're a single guy who goes to Think Like a Man and it makes you want to find your other half, my number is…..
P.S. There's nothing after the credits. Go home and get your cuddle on.