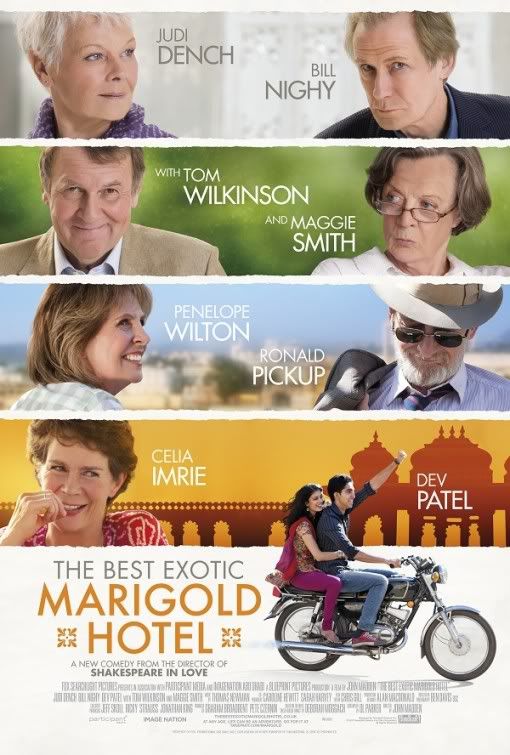 "Everything will be all right in the end. If it's not all right then it's not the end."
What do you do if you live in England and you've run out of money and/or lost your spouse? You move to a run-down hotel in India. Of course!
The Best Exotic Marigold Hotel was a not-so-surprising treat. The actors were entertaining, as these usually are. The hotel, though run down, is still impressive and boasts a manager who is charmingly manipulative, strong-willed and romantic.
Seven different stories merge to form one heart-warming tale of loss and wandering out in a new direction. A judge has decided enough is enough and walks out on his job. A woman in need of hip replacement surgery and who is also incredibly racist seeks aid where it's cheap and available right away. Another woman has recently lost her spend-thrift husband who left her with absolutely nothing. A husband and wife are being forced to find smaller housing due to a bad financial decision. A "gentleman" has been looking for love in all the wrong places and has decided to move his search to another country entirely. The 4th and final woman is looking for someone well-off with whom she can spend her remaining years in the manner to which she means to become accustomed. Finally, the hotel manager isn't quite living up to his mother's expectations but is determined to plow on despite the obstacles.
As good as each story is they wouldn't do as well on their own. Together they form a very enjoyable two hour cinematic experience. Leanne and Diane (the Fig sisters) went with me and both really liked it too so I'm not just basing this on my opinion. Well, not completely anyway.
Dame Judi Dench is Evelyn Greenslade, the widow whose husband has left her to sell her home to cover his debt and have enough money on which to live. I am a big fan of Dame Judi. She is lovely and seems to be full of spunk. She is also on my list of people I would like to go to dinner with at least once. Just imagine the evening's entertainment! Her character, despite her losses, seems fully capable of taking matters in to her own hands. I am very happy with how things turned out for her. Leanne took a stab at who Evelyn would end up with. I completely disagreed with her. I was certain it was one of the other men. Leanne won, darn it.
Tom Wilkinson is Graham Dashwood, the Judge who has given up life in England to return to his birth place in India to seek out his lost love. Graham is a beloved character almost from the very beginning. Not so Muriel Donnelly, played by Maggie Smith. She needs the surgery but has to force herself to "deal with" people of a non-Anglo Saxon persuasion to get it. This does not make her happy. Maggie shines in this role. She must be ornery in real life as that's how she most often seems to be cast.
Billy Nighy and Penelope Wilton (Douglas and Jean Ainslie) are painful to watch in that they did an excellent job as the unhappy wife and brow-beaten husband. Douglas is a wonderfully sweet man and Jean exudes nothing but negativity. Sadly, one of them reminded me a lot of…well…me. Did not appreciate that mirror in the least. And I don't condone everything Douglas did but I understand why he did it. They can never be cast in another film as a romantic couple. I just wouldn't believe it.
Madge Hardcastle and Norman Cousins (Celia Imrie and Ronald Pickup respectively) aren't as prominently cast as everyone else mentioned so far. Their stories seemed like filler. I'm almost sorry to say that I was glad about that turn of events though they did well in their roles as the gold-digger and the pervert. Okay, that's probably too strong a word but it's close. Madge does turn out to be a bit of a sweetheart so I guess I can forgive her her money hunt.
Sonny Kapoor, played by Dev Patel, is, in my opinion, the hero of the movie. The bumbling hero...but hero nonetheless. He tries to save his hotel, please his mother and win the girl all at the same time. I can't imagine anyone else in this role. You can't help but hope everything works out for him. Unfortunately, this sweet man says one of several cuss words we heard in this film and it was the big one. Sonny! It's not really very surprising that he said it though.
Despite its rating I still feel as if this might be too mature for young teenagers. As mentioned before there is cussing. We didn't see any nudity other than Norman's upper half during a shower scene and no sex scenes were included though it was discussed quite a bit. There is drinking but in moderate amounts in social situations and there was no violence. Then why wouldn't I recommend this for young teens? I truly believe they wouldn't enjoy it and the different situations are a bit more than they need to deal with at this age. Having said that, I don't think most older teenagers would enjoy it either.
I saw The Best Exotic Marigold Hotel a couple of weeks ago and am just now getting around to talking about it. Sorry about that. What makes my judgment of the demographic even harder is that I've seen 6 Marvel movies since then. It skews who I think I should direct this towards. My cousins and I have very differing opinions on what movies we like and all three of us enjoyed this. It's a feel-good movie – for the most part – but there's no action. Not really. Unless you count the modes of transportation taken from the airport to the hotel. The characters might have felt as if it was. Because of the lack of action, the need to see it on the big screen isn't as great but I want to encourage people to do so anyway just so it does well at the box office. It's a nice little escape and now is the perfect time to see it as most people will be at The Avengers anyway so the theater should be nice and cozy. Probably not the build-up the director would want out of a review but there you go.
P.S. Nothing happens after the credits so please gather up your trash and dispose of it properly. It's the right thing to do.