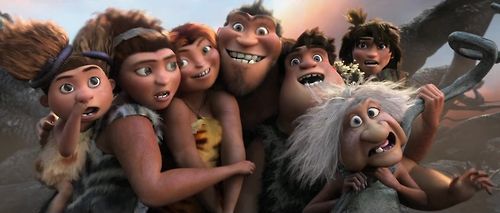 I WAS IN AN ANIMATED MOVIE!!! Okay, so not literally but I'd hardly gotten past the opening credits and I was already a member of the family. I was so drawn in to (no pun intended) it that I only visited the theater a couple of times during the film and that was caused by several kids' laughter. They loved it! I have nothing negative to say about The Croods and I'm already ready to see it again.
The Croods is about a prehistoric cave family whose father/husband/son-in-law protects them by keeping them in constant fear. One day they are forced out of their cave and their lives are changed forever.
I went to the 3D showing - even though I usually don't notice the effects - and thoroughly enjoyed it. I've never wanted to be artistically talented so badly in my entire life. All the effects were pretty amazing. From the family itself to the different animals to the plant life; it was all just so cool! Oh! And someone must like elephants because there were several different elephant type critters. I think I saw at least 4.
Moving along. Allow me to take a moment to introduce you to the family:
First there's the dad, Grug (voiced by Nicolas Cage). Grug's entire life seems to be spent protecting his family; whether they like it or not. He's a good guy. He just tries too hard.
Next there's the mom, Ugga (Catherine Keener). She's the keeper of the peace who tries to help Grug see what's right for the family.
Then there's the grandma, Gran (Cloris Leachman). This woman is a little spitfire. Literally, at one point. They picked the perfect person to be her voice. I could totally picture Cloris as the live action Gran.
Next up is Thunk, the son (Clark Duke). Poor Thunk. If this guy doesn't manage to find a smart girl to take care of him he's in a mess of trouble. Or he'll just live with his parents his entire life.
Randy Thom is the voice for Sandy, the baby girl. This kiddo is every parents' nightmare. She is in to EVERYTHING!!! And then some. She sticks whatever she can get hold of in to her mouth. Who cares that it's a giant flying bug. Yuck!
Rounding out the family is daughter Eep (Emma Stone). She's tired of living in fear; not being able to leave the cave whenever she wants. She just knows there's more to life. And she is very much the stereotypical teenager.
Not members of the family but still very important to the film are Guy (Ryan Reynolds) and his pet sloth, Belt (Chris Sanders). Guy is truly living life and encourages the Croods to do the same. Belt is his trusty sidekick. Belt was also the cause of quite a bit of the kids' laughter.
I don't need to break this down because I think it is fine for pretty much everyone. But I will anyway. There was no cussing, no sex/nudity (doy!) and no drinking/drugs (again…doy!). There was violence but there always is in animated movies, right? I don't think any of it was particularly gross. ParaNorman was way scarier and if your children were okay with that they should be fine with this.
I recommend this for pretty much anyone. Unless you hate animated movies. Then don't go see it. I've already told mom and dad that they need to take PT to see this as soon as possible. There is a teensy little extra after the credits. It's cute but I'm not sure if it's worth the wait. I'll let you decide.