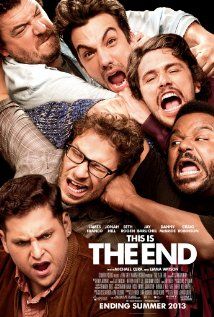 Wow! This Is the End was not good. Well, for me anyway. I avoided the trailers and went solely based on who was in the movie. Bad decision on my part. I knew just looking at the poster that it would be stupid humor but this went above and beyond. This is what I imagine went in to the writing of this film:
"Okay, I have an idea. Let's make a movie about the end of the world and we'll play ourselves. No, not WITH ourselves [giggle, snort]. Play us. Since everyone thinks that all celebrities do in their off time is drink and do drugs we'll do a LOT of that. And then a bunch of people will disappear and then we'll hole up in Franco's house because it's, like, built of concrete so it's super fortified. Of course, we'll have to talk about body parts and poop and pee and other fluids…a LOT. And wouldn't it be hilarious if we totally bagged on Christianity? And we've got to get a lot of celebrities to be in it. Oh! I wonder what we could talk Channing in to doing!"
It couldn't have taken too much more thought than that. At no point was "intellectual" humor included in the plot. It was straight up gutter/toilet humor. If you happen to like that then you'll love This Is the End. I will admit that I laughed a few times but most of it was caused by the sheer stupidity and awkwardness of some of the jokes. But some of it was just gross. I took Mac with me again and we both almost hurled during one scene. I don't know how many times I leaned over and said, "I'm so glad we didn't pay for this." Well, not with cash anyway. I want that 107 minutes back.
I would be surprised if there was much of a script for this movie. I think they all just got together, received a basic scene description then were told to run with it. I won't waste time on talking about each actor because there wasn't much acting in this. It was just one cheap joke after another.
The break-down for this is relatively simple. Was there cussing? Absolutely. Was there nudity? Definitely. It's weird, over-the-top nudity too. And it's not women. Was there drinking and drugs? Oh crap yeah. Was there sex? It was grossly implied. Did I like anything about this movie? Yes. Yes, I did. I liked the group cameo that showed up at the very end. Was it worth it to be able to see them? No. No, it wasn't.
To say "Don't take your children to see this movie" is sorely understating it. I beg you not to take yourselves. I have a feeling this is going to do well at the box office and that's very sad. In case you're wondering whether or not I even have a sense of humor, I do. Ask anyone. Ask them. ASK THEM! Ahem. I just, apparently, don't have the sense of humor needed to enjoy this movie.
I just knew that there would be a teaser after the credits but there was nothing. I may have to watch another movie before I go to sleep tonight just so I don't dream of this one.